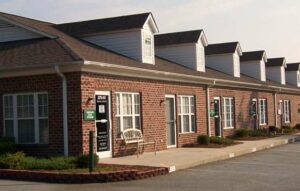 American Flag Storage Eastchester
We're experiencing high demand at this facility. Please call for availability!
336-454-4635
* Online rate excludes insurance & admin fee. Promotion applies only to online rate.
Facility Features
Every storage feature is designed from scratch against standards forged from years of experience in the self storage industry. The result is a high quality consistent customer experience you can count on.
800-1200 Sq. Ft. Office Spaces Available
American Flag Storage Eastchester
Offering conventional High Point storage units as well as climate-controlled options, American Flag Eastchester is conveniently located near the intersection of Wendover Avenue and Hwy 68 in High Point, NC.
Our state-of-the-art High Point storage facility offers a clean, safe and secure way to store your valuables. We offer several High Point, NC self storage unit sizes and shapes to choose from, all on our fully fenced and well-lit grounds.
Located in the middle of no less than five apartment complexes, several shopping plazas, theaters and more, American Flag Eastchester is also only 10 minutes away from High Point University.
Features
Climate Control
Work Shops
Camera Surveillance
800-1,200 Sq. Ft. Office Spaces Available
Mon

10:00am - 6:00pm

Tue

10:00am - 6:00pm

Wed

10:00am - 6:00pm

Thu

10:00am - 6:00pm

Fri

10:00am - 6:00pm

Sat

9:00am - 4:00pm

Sun

Closed
Mon

6:00am - 10:00pm

Tue

6:00am - 10:00pm

Wed

6:00am - 10:00pm

Thu

6:00am - 10:00pm

Fri

6:00am - 10:00pm

Sat

6:00am - 10:00pm

Sun

6:00am - 10:00pm