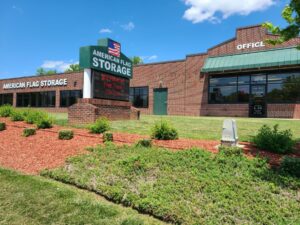 American Flag Storage Reynolda/Northpoint
We're experiencing high demand at this facility. Please call for availability!
336-759-2244
* Online rate excludes insurance & admin fee. Promotion applies only to online rate.
American Flag Storage Reynolda/Northpoint
American Flag Storage on North Point offers a clean, well-maintained, and safe environment to store your property. We provide a large selection of self storage unit sizes for your needs. For added security, we have 24-hour video surveillance. Our friendly, knowledgeable staff is capable of answering all your storage questions and concerns.
Our American Flag Storage North Point facility is conveniently located directly across the street from Food Lion at Old Town Shopping Center on Reynolda Road.
This facility features $35 Move-In Special on any size!
Features
Moving Supplies
Tenant Insurance
Month-to-Month Leases
Climate Control
Monthly Specials
Resident On-Site Management
Camera Surveillance
Boxes
Mon

9:00am - 6:00pm

Tue

9:00am - 6:00pm

Wed

9:00am - 6:00pm

Thu

9:00am - 6:00pm

Fri

9:00am - 6:00pm

Sat

9:00am - 4:00pm

Sun

Closed
Mon

6:00am - 10:00pm

Tue

6:00am - 10:00pm

Wed

6:00am - 10:00pm

Thu

6:00am - 10:00pm

Fri

6:00am - 10:00pm

Sat

6:00am - 10:00pm

Sun

6:00am - 10:00pm